Commodity metals edged higher on Friday morning, ending the week on a cautiously bullish note with silver, copper and palladium rising. However, gold and platinum were down, still grappling with the effects of a stronger US dollar weighing on demand, as well as recent comments from the US Federal Reserve regarding a faster-than-expected balance sheet contraction. .
NATO also announced that it would send more heavy artillery to Ukraine, which could signal a potential end to the conflict imminently, giving investors an additional sense of optimism. This has led to renewed interest in riskier assets, steering investors away from safe-haven assets such as precious metals.
In morning trading in London, spot gold fell 0.08% to $1,930.70 per troy ounce as the metal struggled against mounting pressures from a stronger US dollar. However, gold ended the week little changed as continued concerns from Russia kept demand more or less stable.
Silver climbed 0.34% to $24.65 a troy ounce as investors worried the NATO move could escalate the war between Russia and Ukraine in the near term. at least, before a resolution is possible.
US 10-year Treasury yields fell 0.7 basis points, extending a further decline, after a few days of recent gains after comments from the US Fed on raising interest rates faster than expected.
Platinum fell 0.10% to $961.49 per troy ounce, near a two-month low as lower demand from Chinese automakers weighed on the metal's value as a autocatalyst, further contributing to the loss suffered by the strengthening US dollar.
Palladium climbed 1.95% to $2,241.92 per troy ounce, rebounding from a nine-week low of around $2,149 per troy ounce seen in late March, as Supply delay fears are resurfacing as investors worry whether major supplier Nornickel could soon be hit with supply sanctions.
Copper rose 0.96% to $4.74 a pound, hitting a record high of $5 in early March as investors pondered dwindling supply from the main Chilean supplier, as well as well as the continuing supply chain constraints caused by the war in Ukraine. However, further lockdowns in China capped gains, with the country accounting for around half of global copper demand.
How do you feel about Palladium?
Vote to see the sentiment of traders!
Aluminum fell 2.30% to $3,384.85 a tonne, falling to a more than three-week low as the metal struggled in recent days as major manufacturing hubs in Shanghai and Dongguan were closed due to heightened Covid-19 concerns.
Nickel fell 0.32% to $33,494 a tonne, following a recent massive exodus from the nickel market amid growing frustrations with the London Metal Exchange's trading system. This has further contributed to the massive volatility seen by the metal over the past few weeks.
Chart of the day: The price differential between gold and platinum reached its highest level in November 2020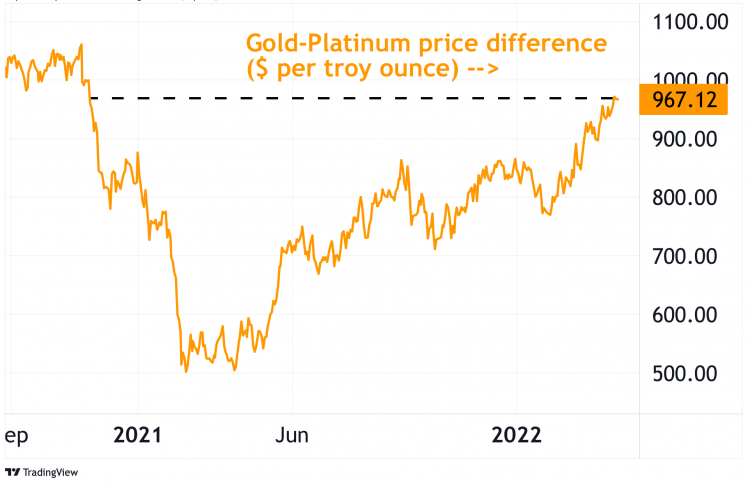 Gold and platinum chart – Credit: TradingView
5 things to know about metals today
Gold: The Russian central bank recently announced that it would stop buying gold at a fixed price.
Nickel: Tesla (TSLA) recently announced the increase in production of its Model 3 cars, equipped with nickel-based batteries.
Iron ore: Iron ore prices recently hit their highest point in China in nearly eight months as consumption rebounds.
Aluminum: Russia's largest aluminum producer, Rusal (RUALru), has called for an investigation into Bucha's war crimes.
Copper: Goldman Sachs (GS) has speculated that copper will hit a new all-time high by mid-year.
Performance of Mining Stocks
Glencore (GLEN) recently released its fifth Ethics and Compliance Report, in which the company focuses on reducing emissions.
Rio Tinto (RIOgb) recently took full control of an alumina refinery in Queensland following the sanction of several Russian oligarchs.
BHP (BHP) recently completed a merger with Woodside worth around $40bn (£30.7bn).
Antofagasta (ANTO) recently pointed out that it expects copper prices to rise next year.
Anglo American (AALI) recently partnered with EDF Energy for a green energy project in South Africa.
Read more