Ukrainian marines say they deployed artillery and shelled Russian positions, providing these images of the weapons in action.
The video was recorded somewhere on the Ukrainian front line and shows the soldiers preparing their equipment before the footage cuts off Russian military vehicles, their targets.
We can then see soldiers writing messages on artillery shells before firing several times.
The footage then shows what marines say are hit Russian military vehicles.
The images were obtained from the 406th Separate Artillery Brigade named after Colonel-General Oleksiy Almazov of the Ukrainian Navy on Tuesday, August 9, along with a statement that read: "The 406th Separate Artillery Brigade named after Colonel- General Oleksiy Almazov showed how she destroyed the Russian invaders!
"Glory to Ukraine! Victory will be ours!"
Zenger News has contacted the Ukrainian Navy for additional comment. He said the images were genuine and the information was accurate.
The images were relayed by the General Staff of the Armed Forces of Ukraine and by the Armed Forces of Ukraine.
The General Staff said the footage showed combat operations carried out by Ukrainian marine gunners.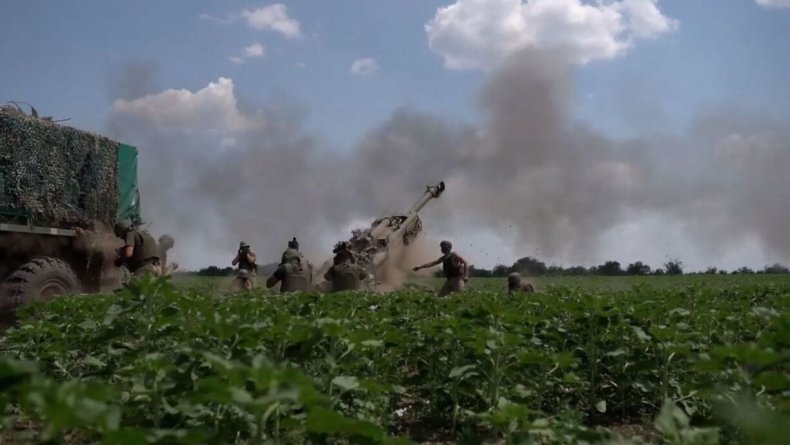 Zenger News has also contacted the Russian Defense Ministry for further comment, but has not received a response at the time of writing.
Russia invaded Ukraine on February 24 in what the Kremlin called a "special military operation." Thursday marks the 169th day of the war.
The General Staff of the Armed Forces of Ukraine said that between February 24 and August 10, Russia lost about 42,800 men, 1,832 tanks, 4,086 armored fighting vehicles, 971 artillery units, 261 multiple rocket launcher systems, 133 air defense systems, 232 combat aircraft. , 193 helicopters, 766 drones, 185 cruise missiles, 15 warships, 3,005 motor vehicles and tankers and 89 units of special equipment.
Russia said its losses were much lower, but provides infrequent updates on the numbers. The Pentagon said on Monday that Russia had suffered between 70,000 and 80,000 casualties — dead and injured — since its invasion began.
Several large explosions took place at a large Russian air base in Crimea, far from the front lines. It is currently unclear whether the air base was targeted by Ukrainian weapons. Russia annexed Crimea to Ukraine in 2014.
Ukrainian President Volodymyr Zelensky has vowed to liberate Crimea. He said: "This Russian war against Ukraine and against all of free Europe began with Crimea and must end with Crimea – with its liberation."
But an adviser to Zelensky, Mikhail Podolyak, said Ukraine did not take responsibility for the explosions.
Petro Kotin, the head of Energoatom, Ukraine's nuclear energy company, has warned of "very high" risks associated with the bombing of the Zaporizhzhia nuclear power plant in southern Ukraine, which is currently under control Russian.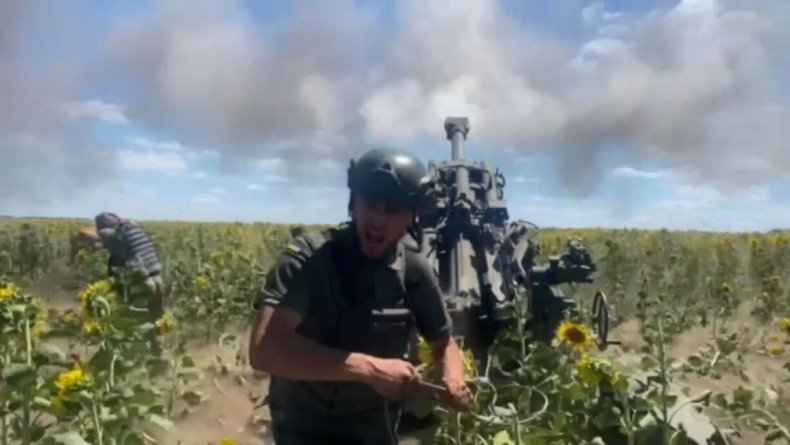 Kotin called for the nuclear power plant in Zaporizhzhia, the largest in Europe, to become an army-free zone and warned of the risk of a nuclear disaster like the one seen in Chernobyl.
Energoatom said that Russian forces are currently in the process of redirecting the nuclear power plant's electricity production to Crimea, to connect it to the Russian grid and disconnect it from the Ukrainian grid.
Estonia and Finland want European countries to stop giving tourist visas to Russian citizens, arguing they shouldn't be able to vacation in Europe while Kremlin soldiers are in Ukraine. Estonian Prime Minister Kaja Kallas said "visiting Europe is a privilege, not a human right" and that it was time to "end tourism from Russia now".
US President Joe Biden has signed documents approving NATO membership for Sweden and Finland.
Twelve ships have now left Ukrainian ports as part of a deal brokered between Ukraine and Russia by the United Nations and Turkey.
This story was provided to Newsweek by Zenger News.